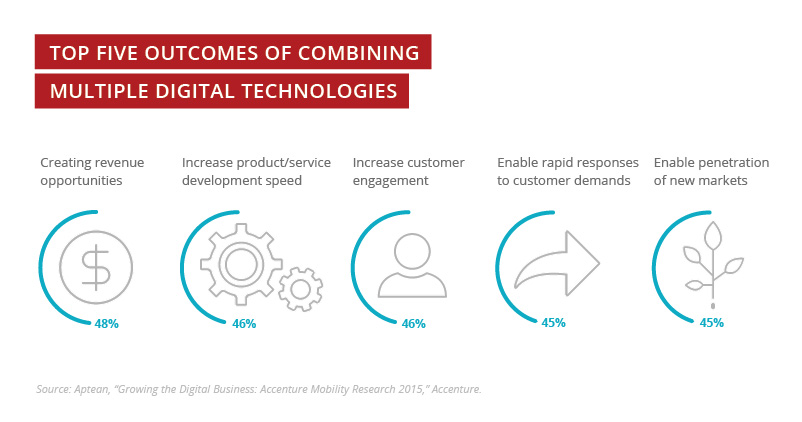 From mobility to analytics to interactive marketing, the options for implementing digitalization into business are far and wide-reaching, and only continue to grow as people and objects become more connected. Successful companies are laying the groundwork now to deploy the ones that make the most sense for their goals and objectives, creating a blended platform of technologies designed specifically to further business growth and fuel employee performance.
This customized approach not only allows companies to select the tools and trends that work best for them—it allows them to leverage their investments in a combined environment, boosting the effectiveness of each. In fact, the recent Accenture report titled, "Growing the Digital Business: Accenture Mobility Research 2015" found that seven in 10 executives believe digital technologies have greater power and transformation potential when implemented together, rather than individually. Furthermore, nine out of 10 executives said their organization has clear expectations for how digital technologies can enhance their business—and plan to see benefits from both a customer and enterprise perspective. Referred to by Accenture as "digital density", this movement is proven to accelerate both competitiveness and economic growth within a business environment—so how do you get started?
The Best of Both (or All) Worlds: Finding the Right Fit for Your Business
When determining which digital technologies to adopt and which just simply aren't good matches for your company vision, it's important to keep in mind how your teams operate, and which tools they'll need to take your business into the future. For instance, the Accenture report cites the merger of CRM and mobile technology as a possible combination, allowing salespersons to access up-to-the-minute project reports while on the go. Such solutions not only improve productivity, they can also lead to increased user adoption, accelerated sales cycles, and—perhaps most importantly—higher customer satisfaction.
However, before you can determine exactly which technologies are best mapped to your business goals, it's important to pinpoint what those goals are—the specific outcomes you're expecting to achieve by implementing a digital strategy. Accenture notes the top five outcomes associated with digital density include: the creation of more revenue opportunities, increased product/service development speed, increased customer engagement, more rapid responses to customer demands, and penetration of new markets.
While these are certainly advantageous outcomes, before jumping in headfirst it's important to make sure certain steps are in place to help avoid some common risks and obstacles associated with digital technology, including security concerns and internal technical integration issues. To this end, it's vital to find the right technology partners, develop a roadmap to digital adoption, and ensuring the support of a digital-focused leadership team.
Keeping pace with the rapid speed at which digital technology proliferates might be next to impossible—advancements and updates are released every day that offer new additions, better quality, and faster speed—but the good news is that with a clear vision of business goals, the dedication and resources allotted to invest, and the a team that's on board and excited about new approaches, leveraging the combined power of innovation and application has never been more possible.
Source:
"Growing the Digital Business: Accenture Mobility Research 2015," Accenture