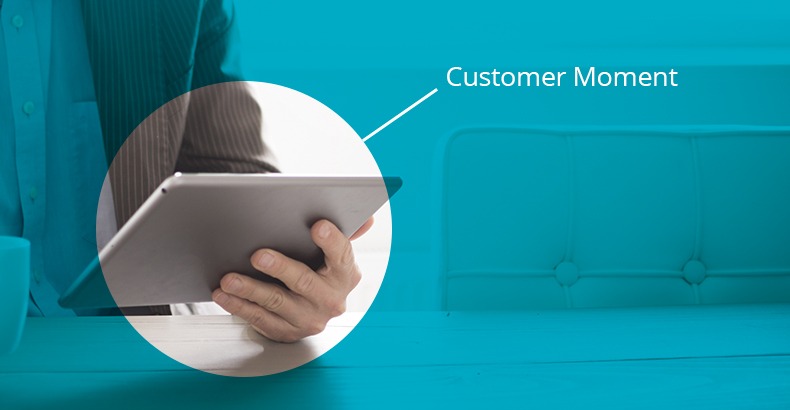 As technological innovation continues to evolve, the resources available to digital marketers are undoubtedly expanded. Across myriad channels, including e-mail, mobile, web, and in-store transactions, potential for engagement is everywhere we look. Yet, sometimes the greatest tool to build brand loyalty and encourage repeat business isn't a simply a device, but rather—a moment.
Known as "customer moments", every time a prospect or client interacts with your company provides valuable opportunity to gain more detail into the psyche of your users. By capturing and analyzing these interactions, your marketing teams can discern how audiences interact with your brand, what drives them to return, and how to tailor your marketing strategies to attract and retain the customer base most important to your organization. These insights can then be funneled across departments, so every employee, from sales to customer service, is equipped with the knowledge and resources required to drive more effective and engaging customer engagement.
Yet, while capturing customer data is an essential part of a successful digital marketing strategy, it's equally as important not to reduce your audience into statistics, known only by their number of transactions or the geospatial location on their mobile device. Rather, companies who truly establish direct and meaningful campaigns with a high rate of impact are those who practice immersive customer centricity, allowing customer preference to direct their organizational processes, functions, and even culture.
The built-in predictive analysis and business intelligence tools available in many CRM systems make it easier than ever to capture the valuable customer data required to transform operations from customer-focused to "customer-obsessed"—a term used to described companies whose sole focus is on meeting customer needs and staying ahead of their demands.
As a result of this functionality, marketers have greater access to the knowledge required to perform at top speed, and many are realizing the importance of catering to customer expectations and the big benefits it can bring. In fact, according to Bluewolf's recent "State of Salesforce Annual Review 2014-2015," 82% of marketers say customer engagement is a key success metric for their role.
So while it's understood that the customer journey from initial contact to final purchase decision is an individual one that may take many different shapes and turns along the way, each holds the same potential for engagement, and the ground is more fertile than ever for digital marketers to leverage each interaction to its full potential. Doing so requires taking another look at who you're selling to and what they expect from you—then adjusting your internal processes and best practices to make sure you're equipped to not only meet, but exceed their expectations, fueled by the notion that staying local to them means they'll stay loyal to you.
To learn more about how partnering with our seasoned CRM consultants can deliver this functionality to your business, please contact any member of our consulting team at [email protected]. We also encourage you to contact Tokara's VP of Business Development, Mark Fillingim, directly at +1 972-719-0213.
Sources:
Chan, Jolene. "Demystifying Customer Journey Marketing At CMO Summit U.S.," Bluewolf Blog, April 14, 2015, http://www.bluewolf.com/blog/demystifying-customer-journey-marketing-live-cmo-summit-us.
"The State of Salesforce Annual Review 2014-2015," http://www.bluewolf.com/landingpage/sosf_report/.